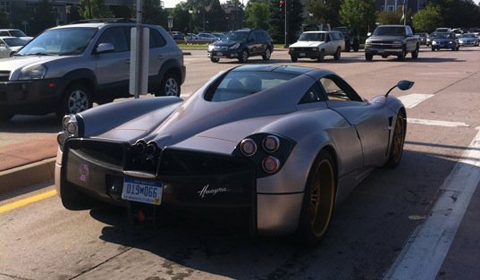 The last days we received photos of a Pagani Huayra seen in and around Denver, Colorado. For a second we thought it was the first customer Pagani Huayra to reach US soil, but Pagani HQ informed us that it is a Pagani Huayra test mule that is currently used by their engine supplier AMG for testing in the United States. It is the first time people in the United States can see a Pagani on the road since the Pagani Zonda was not allowed on the US roads due to safety and emission regulations. The new Huayra however is Euro 5-compliant and complies to all US and European safety and emission regulations.
Pagani so far appointed two Pagani dealerships in the United States in Los Angeles and San Francisco but more will follow. The first customer deliveries in the United States are expected to take place from Q2 2012 according to Pagani today.
The Pagani Huayra in Denver has been seen with a group of eight Mercedes-AMG test mules. AMG is in the United States to test how their cars and engines cope with hot weather conditions.
[Thanks to Markus for the photos]