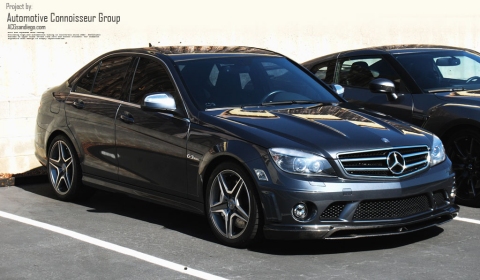 Our latest addition to GTspirit Garage is this gunmetal gray Mercedes-Benz C63 AMG, which is part of a project by Automotive Connoisseur Group. The German sports car is one of the upcoming new project vehicles. GTspirit Garage has been established over the past weeks to give you the option to follow the development and progress of tuning projects, like this AMG family member.
The Automotive Connoisseur Group from San Diego, US, is new to GTspirit and stated to us:
With this project, we take a leap forward in enhancing the performance of the C63 AMG platform. Along with the performance modifications the vehicle will be outfitted with full aftermarket suspension setup, a number of interior and exterior modifications and a competition worthy sound system. The car will be built in-house at Automotive Connoisseur Group, San Diego facility by two of our Mercedes-certified mechanics.
The following parts are part of the project and will be outfitted to the Merc.
Weistec M156 Stage 1 Supercharger System:
2.3 liter Twin-Screw Compressor Module
1000hp Liquid to Air Intercooler Core
High Flow Cast Aluminum T6 Hardened Lower Manifold
High Flow Cast Aluminum T6 Hardened Throttle Body Inlet Y
45mm Boost Bypass Assembly
Constant Mu, Delta Pressure (CMDP) Cog Drive System
Billet Aluminum Cog Drive Cradle Assembly
Poly Chain GT Carbon Fiber Cog Belt
Supercharger Serpentine Drive Belt
Johnson CM30 30 Liter/Min Intercooler Water Pump
Big Cap Intercooler Water Reservoir with drain
Dual Pass Heat Exchanger
High Flow Fuel Rail System
Molded Silicone Couplers
Power-Steering Reservoir Relocation Assembly
Weistec Engineering M156 Stage 1 Reflash (CARB E.O. Pending)
Weistec M156 SC Stage 2 Package:
Fuel System Upgrade
Cog Pulley Upgrade
Stage 2 Spark Plugs
Calibration
Weistec M156 CNC Race Port Head:
5-axis CNC machined
397.88 CFM Intake flow
257.81 CFM Exhaust flow
Fully assembled, Read to run heads
Custom ground factory 40mm intake valves
Custom ground factory 33mm exhaust valves
Other parts:
C63 Tri-Y Long Tube Headers, Stainless Steel, with V-band adapter flange
C63 (Optional) 3 inch Connecting Mid Pipes
C63 300 Cell High Flow Cats with Test Pipe
Quaife limited Slip Differential Install Kit
OEM Differential Cooling Kit
Custom Transmission Cooler
SLIP ON – HOMOLOGATED (TÜV approved/Street legal) – Akrapovic Titanium exhaust system, mufflers (e24*03 1283) L&R, set of titanium quad rectangular tailpipes 118 × 83 mm, ACG W204 C63 Rear Resonator Delete (Install Pipe for Akra Slip On)
ACG 2-Piece Rotor Upgrade (Slotted)
Custom Caliper Repaint + AMG Logos
KW v3 Coilovers
MA Carbon – 9-piece Interior Kit
MA Carbon – Steering Wheel
MA Carbon – Instrument Cluster
MA Carbon – Upper Center Console
Full Satin Protection Vehicle Wrap
You can read the first two updates right here!
Stay tuned for more updates on this new member to GTspirit Garage.