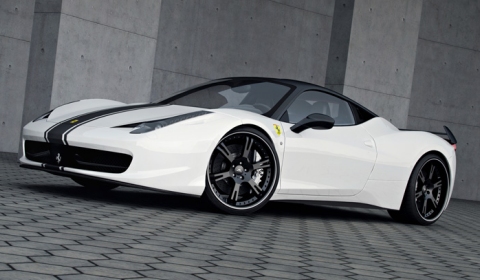 Wheelsandmore has taken the successor of the F430 model into its shop and created a package for it named; the 458 Italian Stallion.
The Germans installed a valve controlled exhaust system with remotable flaps, stainless steel manifolds and an ECU upgrade achieving 621hp and 616lb-ft. Wheelsandmore estimated the maximum speed for brave pilots over 330km/h.
The tuner´s own forged rims called 6 Sporz² were outfitted to the 458. At the front the lightweights are turning on a 9.0 x 21 inch rim with the appropriate tire dimension of 245/30/21 from Hankook and on the drive axle also Hankook´s S1Evo´s sizing 345/25/21 are rolling on mega wide 12.5 x 21 inch three-piece forged wheels. All Wheelsandmore rims are 100 percent handcrafted and that allows realizing individual customer requirements in terms of interface design and the color finish.
Wheelsandmore disclaimed any modifications at the serial suspension setup. Only a lift-up system at the front axle provides a hydraulic lift around 40mm to avoid any damages in case of missing road clearance at speed bumps or parking garages.
The two-tone design, racestripe and the shown big rear wing is offered at the exclusice Italian Stallion Edition, only available as a complete new vehicle from Wheelsandmore.