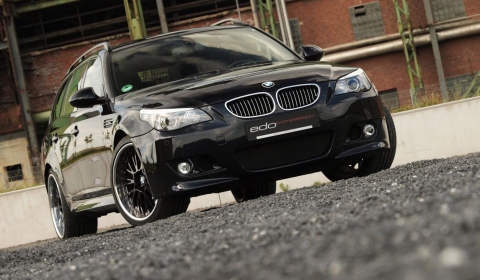 Edo Competition is saying farewell to the previous BMW M5 by introducing a special edition named; Dark Edition. The complete kit includes numerous technical, interior and exterior parts.
The modified front and the new rear skirt reveal four chromed exhaust tips with an upgraded high-flow exhaust system. The rear wing – along with the other exterior modifications – are combined with the new 20 inch light alloy wheels with painted centers and Dunlop tires (255/35 R20 fronts, 285/30 R20 rears).
This production M5 has an electronically limited top speed of 250km/h, but thanks to a recalibrated ECU, high-flow air filters and catalytic converters as well as a newly developed exhaust system, this car's power output was increased from 500 to 555 horsepower. Its maximum torque output now stands at 560Nm, up from 521Nm. By removing the governor, a top speed of 305km/h could be realized.
The additional power also has an effect on the acceleration: At 4.2 seconds, this two ton vehicle reaches 100km/h 0.5 seconds quicker than the factory version. Accelerating from 100km/h to 200km/h in under 10 seconds, the gap between the edo M5 and the stock car grows to 5.0 seconds.
From carbon fiber to precious leather, all the customer's wishes were met on the inside of the wagon. Its speedometer has been extended to 360km/h and white dials with a backlit logo were installed as a finishing touch.