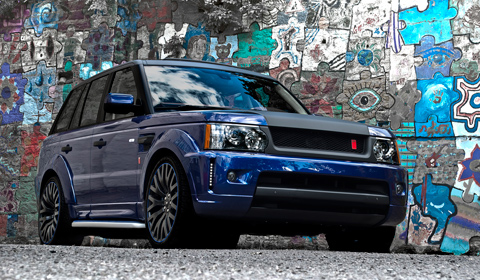 A Kahn Design have launched the new Project Kahn Miyagi edition, a Kahn Design Bali Blue Range Rover Sport with a view to aiding the victims of the recent earthquake and tsunami in Japan.
The scale of the disaster was almost unimaginable. Over 10,872 people died and many thousands of people are unaccounted for. More than 387,000 people were forced from their homes by the disaster, including around 74,000 children. They are now living in evacuation centers, and could be living there for months to come.
The Kahn Group has launched a direct appeal to customers and fans to donate most generously to the people of Japan. More information is available through Kahnnews.com.
Furthermore, it is hoped individuals who purchase the new Range Rover Sport Miyagi edition, will give the vehicle an ultimate tribute by donating to the appeal. Founder of Project Kahn, Afzal Kahn commented:
I am a parent myself and it is heartbreaking to see the hardship that these children must endure and we would like to do our bit and help them via a very noble virtue: charity.
With regards to the Miyagi edition, Land Rover's decision to no longer offer the Bali Blue colour affords A. Kahn Design an opportunity to build a bespoke vehicle that will hopefully be remembered for all the right reasons.
The Range Rover Sport Miyagi edition conversion consists of a new ten piece Kahn body kit complete with a sports exhaust system and color coding. The aerodynamic styling package sees the introduction of a new bespoke front bumper with fog lamp surrounds in billet steel finish, rear bumper replacement with exhaust diffuser, side skirts, matte black side vents with double mesh, and rear quad stainless steel exhaust system by Cosworth. It also includes bespoke 22 inch RS Cosworth wheels.
The Project Kahn Miyagi edition package includes a complete interior styling package which sees the introduction of the new bespoke quilted leather interior range to the front and rear seats, glove box and dash board. The steering wheel and gear shift benefit from contrasting silver stitching applied against the black leather adding beautiful texture, distinct style and the ultimate comfort. The speedometer, rev counter and clock, feature a shock of electric blue whilst complementing the original design. Everything about the Miyagi exudes style, from the stainless steel door entry sills, side vents, foot pedals even down to the smallest of touches.
The vehicles are available to order now; prices start from £ 69,000 for the diesel edition and £ 89,000 for the petrol edition.