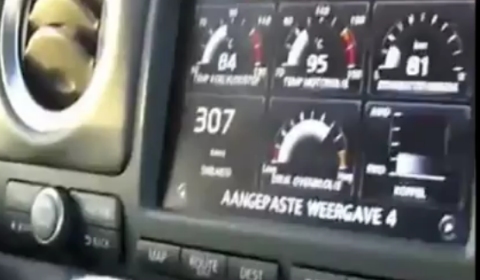 Driving over 300km/h on a public highway is "only allowed" in Germany and on the Isle of Man. Eventhough there are some additional consequences to it, people often think they can drive fast on any road and in any situation.
The following clip is currently the talk of the town in the Netherlands. It shows a youngster – with a wealthy dad – driving his personal Nissan R35 GT-R within urban areas where normal people life and drive a maximum speed of about 50km/h. The guy named Pieter Kiveron – his face and the car's nummer plate are visible in the extended version of the video – speeds up to almost 150km/h. Three times the allowed limit!
The clip continues while he takes his tuned R35 GT-R (540hp) up to a speed of 308km/h on a road where a maximum of 100km/h is allowed. The enormous speed difference is easily visible with respect to the other vehicles he overtakes.
The videos has been posted on numerous blogs in Holland. Local police has responded to the released footage and will investigate the facts. In the end the driver will be quite lucky, because nobody in the Netherlands has ever been charged with speeding after uploading a YouTube video which showed the offense.
Feel free to share your opinion in the comment box below.
[Via Autoblog.nl]