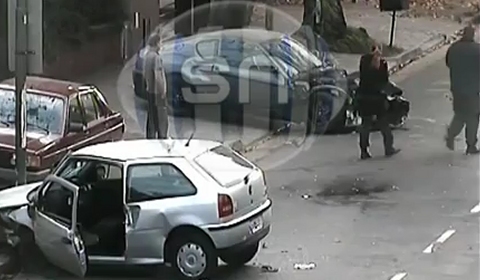 The following clip was shot in Buenos Aires, Argentina by a security camera pointing on the Libertador Avenue. On the footage you will see a Ferrari 456 crashing into a small Volkswagen Gol last Thursday.
It seems that the driver of the Ferrari 456 lost control of the supercar and entered in a head-on collision with the VW. He did not suffer any major injuries, the girl driving the Volkswagen Gol escaped with several broken bones and other minor injuries.
The Ferrari 456 and 456 M is a front-engined grand tourer. The 456 was produced from 1992 until 2003. The 5.5 liter V12 engine produced 436hp. Acceleration to 100km/h was just 5.2 seconds, with a 13.4 second quarter-mile time. Top speed 302km/h.
[Via Zercustoms]