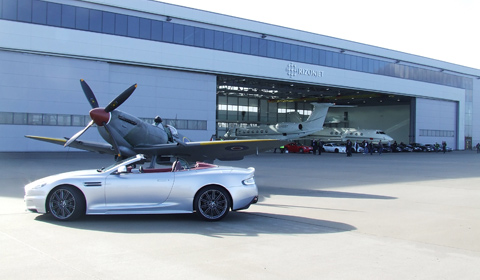 The Dodgeball Rally returns this month with a rally from London to Saint Tropez. The Dodgeball Rally 2011 starts at 9.30am on June 16th at the InterContinental London Park Lane and finishes Sunday June 19th in Saint Tropez.
At the first stop the Dodgeballers get to experience an empty runway to race around on at Biggin Hill Airport, including a peak inside the latest G6's lined up in the new $ 20 million Rizonjet Hanger at Biggin Hill Airport. From there the Dodgeball Rally 2011 continues through the champagne region in France to northern Switzerland near Zurich. From there its just a short drive to the most amazing mountain roads and the famous Stelvio Pass. Followed by even more mountain roads and finally an overnight checkpoint in Venice. From Venice the Italian countryside offers the ideal setting for a leisure drive towards Monaco and ultimately Saint Tropez.
Organizer Jonny Dodge told us you can expect to see some special cars on this years Dodgeball Rally again! Some of the most noteworthy include an Arash AF10, Mercedes SLS AMG, McLaren SLR, Ford GT 720 Mirage and a Lamborgini LP570-4 Spyder Performante among many others! Follow the latest news about this years Dodgeball Rally on their Facebook.