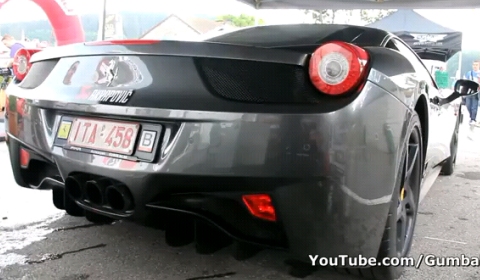 Our friend and YouTube member Shmee150 has recored a video with the first-ever Ferrari 458 Italia with an Akrapovic slip-on exhaust system. The video was made at the Spa Francorchamps circuit in Belgium.
The Italian sports car shown in the footage below is the same vehicle we drove in Portimao during the Akrapovic experience event last month. Also notice the numberplate.
The exhaust improves the engine's power output from 570hp to 581hp at 6,370rpm and the peak torque from 540Nm to 566Nm at 2,400rpm. The system saves a total weight of 14 kilos. The dry weight of the 'prancing horse' goes from 1,380 kilos to 1,366 kilos.