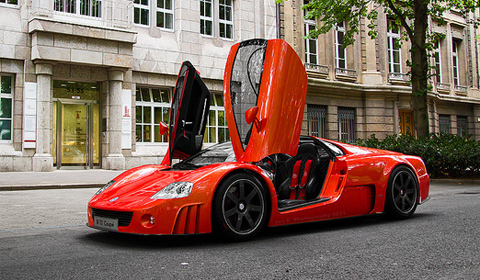 Today's Photo of the Day features the Volkswagen Nardò which was spotted in the German city of Düsseldorf last Sunday.
The Volkswagen W12 Nardò was introduced at the 2001 Tokyo Motor Show. This concept car was designed by Giorgetto Giugiaro and Italdesign and commissioned by the Volkswagen Group to showcase new technology. The VW Group wanted to show they could build a supercar with a large and reliable engine for its luxury cars and sports cars. Sadly the car never went into production.
The VW W12 Nardò is powered by a mid mounted 6.0 liter 12 cylinder engine in a W configuration. A similar engine is used to power the Audi A8, Bentley Continental GT, Bentley Continental Flying Spur, Volkswagen Phaeton and Volkswagen Touareg Sport.
The W12 engine delivers 600bhp and 620Nm of torque. With these kind of specifications and weighing just 1,200kg the W12 Coupe accelerates from 0-100km/h in 3.5 seconds and on to a top speed of 350km/h.
Volkswagen took this W12 prototype to the famous Nardo high-speed circuit near Lecce in Southern Italy in February 2002. The Nardò Ring is a 12.5 kilometers long and perfectly round high speed test track where they lapped the ring non-stop for 24 hours. The VW Nardò covered a distance of 7,749.4 kilometres at an average speed of 322.89km/h, establishing a 24-hour endurance record.
This picture was made by Jan E. Photography. For a high-resolution version of this great shot click here.