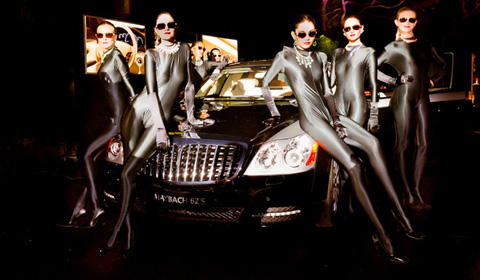 Luxury car manufacturer Maybach and luxury jeweler and watchmaker De Grisogono unveiled their project based on the Maybach 62S. This car will be studded with precious-carat diamonds.
The diamonds are initially only included on the rear center armrest. But De Grisogono and Maybach are currently looking at further options for individualizing the interior with diamonds and other gemstones. For example on the steering wheel, shift lever and seats.
Other luxurious details include dashboard counters rimmed with white diamonds, as well as the signature De Grisogono scrolled motif featured on the car's veneer trim. One extra special feature was De Grisogono founder Fawaz Gruosi's initials engraved in black diamonds on the armrest.
Performance wise, the range-topping Maybach 62S model stays the same. The vehicle comes fitted with a twin-turbo 12-cylinder engine putting out a total of 612 horsepower. This enables the limousine to accelerate from standstill to 100km/h within 5.2 seconds, the top speed is limited at 250km/h.
This extraordinary or eccentric one-off model with precious-carat diamonds in the interior will be studded with further diamonds and gemstone creations before being presented officially at the Dubai International Motor Show between 10 and 14 November 2011.