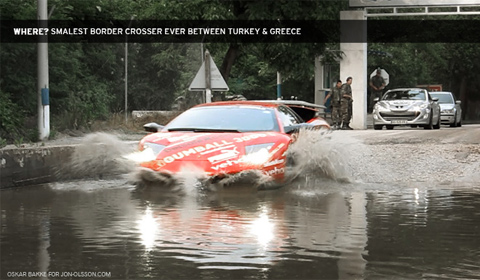 Jon Olsson took part in this years Gumball 3000 from London to Istanbul with his Nissan GT-R and Lamborghini Murcielago LP670-4 SV.
Where most participants had their car shipped back home, Jon opted for the adventurous option and drove his Lamborghini back from Istanbul to Stockholm via Greece, Italy, Switzerland, Germany, Denmark and finally Sweden. It was in one of the first stages of his drive home however that my favorite device (sarcasm) called TomTom showed him a very special way to the Greek border over some very narrow and supercar unfriendly roads.
Once he got there the border turned out to be more of a river crossing than a border. Not afraid of a challenge Jon Olsson put the Lamborghini into gear and taught the Lambo how to swim. It is probably the first and the last time you will ever see a Lamborghini LP670-4 SuperVeloce do this! Luckily for Jon and the Lamborghini it passed the swim lesson with success and flawlessly continued the 4,000km long drive home to Stockholm.