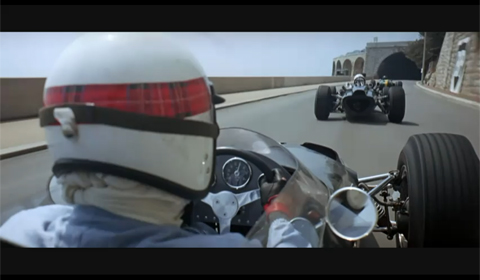 The Monaco Grand Prix is widely considered to be one of the most important and prestigious automobile races in the world.
The first race started in 1929 and since then a total of 69 races has been held with Sebastian Vettel as winner of the latest edition last weekend. As an exceptional location of glamour and prestige the Monaco Grand Prix has become an almost mythical race that all the drivers dream to win. One the greatest of all times was Ayrton Senna who holds the record for most victories at this prestigious race. The Brazilian has won a total of six GPs on the narrow and twisty streets of the Principality.
The Grand Prix not only draws the attention of the drivers and fans, it also attracts many celebrities from up the coast at the Cannes Film Festival and beyond. The Monaco Grand Prix is bathed in an aura of glamour. A great example of this all is the movie Grand Prix.
This 1966 movie is an American action film which was directed by John Frankenheimer. In this film the fate of four Formula One drivers through a fictionalized version of the 1966 Formula One season is followed.
The film also used footage from actual F1 races. Some of this was captured by Phil Hill, the 1961 World Champion, who drove special modified camera cars in some sessions during the 1966 Monaco and Belgian Grands Prix. This was some of the earliest experimentation with in-car cameras for Formula One resulting in some unique racing cinematography.
Also interesting is the real-life racing footage and the appearances by real drivers. These include F1 World Champions Phil Hill, Graham Hill, Juan-Manuel Fangio, Jim Clark, Jochen Rindt and Jack Brabham.
The video below features the Monaco Grand Prix as shown in the movie. Enjoy the great cinematic experience and beautiful footage of an very interesting yet dangerous period.