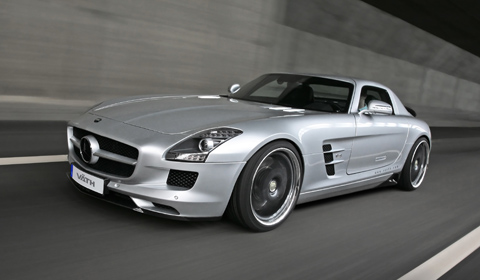 Bavarian tuner VÄTH Automotive has officially presented their take on the Mercedes SLS AMG.
With the engine electronics optimization and in-house high-performance exhaust system, the tuning kit achieves a peak performance of 615 horsepower and 680Nm at 5,800rpm. The newly programmed engine management with custom ignition and injection characteristics enables the Gullwing to achieve a top speed of 330km/h. The sprint from standstill to 100km/h is completed in just 3.6 seconds. A high-performance braking system has been installed as well to ensure massive deceleration when necessary.
The new exhaust system has a special extra pneumatic valve system with manual control in the cockpit. This allows the driver to adjust the tone of the 6.3 liter eight-cylinder "on-the-fly" between pleasantly quiet or sporting pithy.
To translate these performance figures and sportive character to the road the German tuner has installed three-part forged rims and high performance tires in the dimensions of 9.5Jx20 and 265/30 ZR20 at the front, and 11.5Jx20 and 315/25 ZR20 at the rear. The rims can be painted in any color.
The Mercedes-Benz SLS by VÄTH has been lowered by 25 millimeters. VÄTH has also added a new aerodynamic package made from carbon fiber composites, which improves the stability and traction at high speeds. This package includes an integrated front lip spoiler to ensure more downforce on the front axle at high speeds. To achieve the optimum balance of pressure between the front and the rear, the latter represents boot spoiler fitted with trailing edge. The side skirts also improve the brake ducts on the rear axle.
The interior has been tweaked as well. The engineered leather sport steering wheel can also be provided upon request with carbon or wood applications. The speedometer was extended to 400km/h. The black floor mats received silver VÄTH logos. Furthermore, door trimming with special leather is possible.
The cost of this package? The complete reconstruction is available for € 32,670.
For more information contact VÄTH Automobiltechnik.