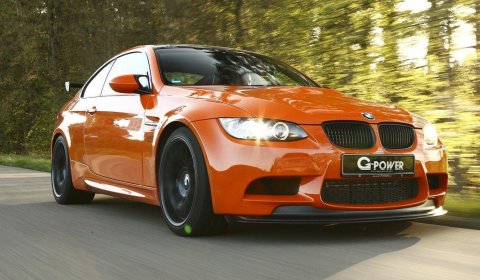 The BMW M3 GTS is known to date as the most potent M3 available on the current market. Limited to only 150 units, it took until the end of 2010 for the first vehicles to reach customer hands, of which three found their way immediately into the G-Power workshop.
Although the BMW M3 GTS was differed from the base M3 in virtually all parameters relevant to motorsport – adjustable aerodynamic body components front and rear, 100kg less weight, a modified suspension and brake setup – the power increase of 30hp to 450hp turned out to be somewhat reserved.
A version of the G-Power M3 "Sporty Drive" supercharger system, adapted specifically for the BMW M3 GTS raises the standard output from 450hp to 635hp and 630Nm of torque. The high-revving V8 power unit from M GmbH, with a 10 percent greater displacement of 4.4 liter, was the basis for the installation of the ASA superchargers.
On the exhaust side, a lightweight, all-titanium exhaust system made by G-Power delivers the necessary reduction in exhaust back pressure. The exhaust, developed specifically to suit the requirements of the SK II supercharger system, is equipped with 100 cpsi metal catalytic converters. The engine control unit software, which controls the setup for the V8, was also developed by the Germans. If desired, the large G-Power airbox can be ordered in lightweight carbon fiber.
Highlights of the package are an improved response to even the tiniest movement of the gas pedal, plus absolutely no restrictions in its aggressive high revving under full load and progressive power delivery right up to the rev limiter. The supercharger system also provides a significant plus in mid-range torque. The new package completes the standard sprints from 0-100km/h and 0-200km/h in 4.2s and 11.9s. Top speed is 323km/h.
The price for the 635hp G-Power SK II supercharger system for the BMW M3 GTS is € 23,500 (exclusive tax) plus installation.