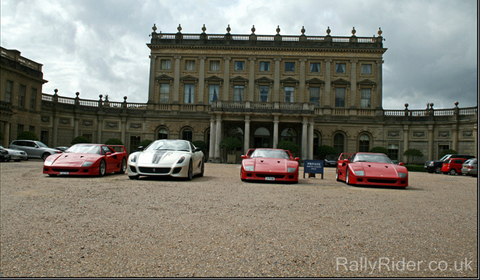 Situated in the Buckinghamshire countryside of southern England, Cliveden House has been visited by virtually every British monarch since George 1st and was also home to the famous Astor family. It has stunning gardens, the river Thames flows past it and there is also a stunning drive leading up to the house with an ornate fountain at the other end.
For the 4th year running this driveway has been host to an enormous gathering of supercars, with the event being organised by a private car forum. Although mainly Ferrari and Lamborghini orientated, other supercars are welcome to attend, with a Jaguar XJ220 being present every year.
The most recent of these gatherings took place on Sunday with an entry list of 130 Ferraris, 20 Lamborghinis and 25 cars of other makes, including Jaguar, Morgan, Koenigsegg and Spyker. Due to the rain that morning not all cars and owners decided to brave the weather (despite it staying dry and even with the odd patch of sun shining through the clouds) however there was more than enough exotica to admire.
The list included: Three Ferrari F40s, a 288 GTO, an Enzo, four 458s, numerous 360s, 430s, in fact pretty much at least one of each recent road-going Ferrari since the 308 baring the F50 (although I'm not expert on that). There were an old and new Lamborghini Gallardo Superleggera, a Miura and LM002 plus assorted Diablo's, Murcielagos and Gallardos. Supporting the other categories there was a Koenigsegg CCR, Spyker, Bentley Supersport, Morgan Aeromax and Morgan Aero SS plus a couple of Aston Martins and Maserati.
For more picture visit Zenfolio.