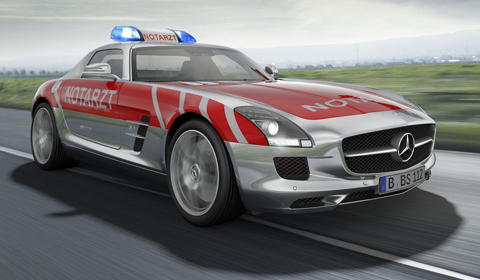 To ensure a rapid response in an emergency Mercedes-Benz has announced plans to introduce the SLS AMG Emergency Medical Concept at RETTmobil 2011, the largest European trade fair for rescue and mobility.
Designed to draw attention to the company's lineup of safety vehicles, the SLS AMG Emergency Medical concept is an one-off concept with a special livery, a prominent light bar and the latest communications technology.
The standard SLS AMG powered by an 6.2 liter V8 which provides 571 horsepower and a torque of 650Nm. Thanks to this, the modern Gullwing is capable of accelerating from 0 to 100km/h in 3.8 seconds, and can reach an electronically limited top speed of 317km/h.