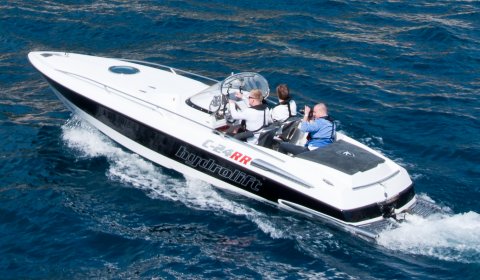 The Top Marques Monaco 2011 event did not only include supercars, but also boats and yachts. Two team members of GTspirit got the chance to experience the Hydrolift's racing heritage on the C-24 RR racing craft.
The C-24 R has external hydraulic steering, a customized racing exhaust system and a racing engine cover. It also includes special edition paint work and a standard 525hp, big block V8 engine that help it live up to the Hydrolift name sake, "flying without wings." The boat is capable of doing 70+ knots while cruising. For those of you unfamilar with these kind of maritiem speeds, it is 130+ km/h.
Just some facts. The C-24 RR is a 7,70 meters long and 2,10 meters wide. It weighs 1350kg and has a seating capacity for five and sleeping capacity for two. The craft is available in high tech reinforced glass fiber sandwich or in fully high performance carbon fiber laminate.