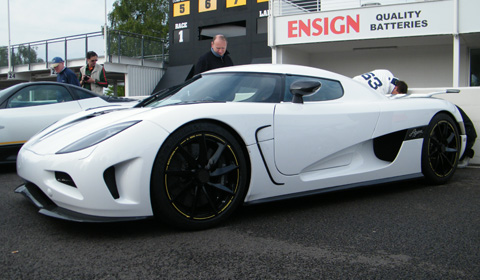 Today was the biggest date in the Goodwood Breakfast Club calender, Supercar Sunday. Every year since 2006 the 'Supercar Sunday' theme has attracted the best of the South of England's sports and super cars, and this year wasn't an exception. With the home straight, paddock and surrounding car parks packed with sports and super cars, generating a wide variety of make and model.
The stand out attractions from today where the first customer delivered Koenigsegg Agera and Pagani Zonda PS, belonging to car collector Peter Saywell, a McLaren F1, Ferrari Enzo, Ascari Ecosse and the Lexus LFA and McLaren MP4-12C bought by their marketing teams.
As well as the above cars, there was a lot of other exotic cars floating about the car parks and paddock, from classic Ferrari's and Jaguar's to modern day greats like the BMW Z8 and Mercedes-Benz CLK AMG Black Series.
For more pictures form the meeting visit Flickr, there won't be a breakfast club next month due to the Goodwood Festival of Speed preparations.