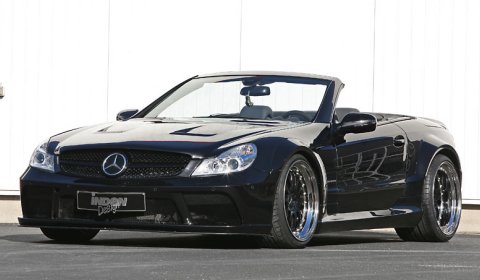 AMG has been producing a small series of one of the most powerful roadsters, the SL 65 AMG V12 BiTurbo, since 2004. This roadster was built on the basis of the Mercedes-Benz R230 and has the 6-liter engine soothing 612hp. The "natural" torque of this engine is 1200Nm, but it is limited by the engine control to 1000Nm.
Tuner Inden Design from Flammersbach in Germant have upgraded this SL. Let us begin with a front apron, which has huge holes for ventilation. The hood had to go through corrections as well. The front wings were widened, that required to change the inner wheel arches. A set of side skirts link the front and rear wheel arches. The rear wheel arches have considerably more volume now. At the rear, subtle spoiler and modified apron with rear diffuser are conspicuous.
Direct contact between the vehicle and asphalt is achieved by a perfectly adequate wheel / tire combination of three-part Inden Champion 11×20 or 13×20 inch rims with 265/30 and 325/25R20 tires. Electronic control module provides additional lowering by about 45mm. The performance of the engine was increased to 680hp, and the Vmax-lock was removed. Black Sapphire exhaust pipes were installed. The interior of the Inden's SL 65 AMG V12 features a Black Series steering wheel in Alcantara.