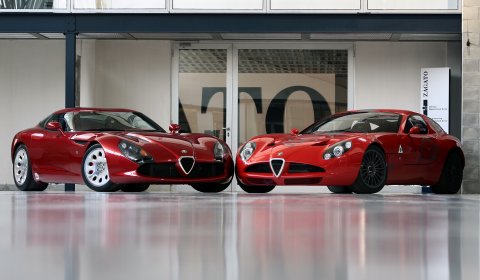 Italian designer Zagato has released more information on a new member to the "TZ3 program", which celebrates the 100th Anniversary of Alfa Romeo (1910-2010). The program ends with the delivery of the TZ3 Stradale. The initiative started in 2009 with the manufacturing of the "one off" TZ3 Corsa which won the Villa D'Este Design Concept Award in 2010 and followed with nine TZ3 Stradale.
Two different approaches for the same tribute. The TZ3 Corsa is a track car. It is not a design exercise. It is a Neo-Classic car. The TZ3 Stradale is a Design Exercise. It is not a race car. It is an Avant-garde car. The TZ3 Corsa is a tribute to the Alfa Romeo and Zagato racing heritage. It is a one off. The TZ3 Stradale is a tribute to the Alfa Romeo and Zagato street legal heritage. Just nine examples in the world. In total 10 collectible cars for the 100th anniversary of Alfa Romeo made by its most prolific contributor, both with race and road legal bodies.
The TZ3 Corsa is based on a mono shell carbon fiber chassis, coupled with a tubular frame and a handbeaten lightweight aluminium body. It's equipped with a front-central V8 90° 4.2 liter engine and six-speed sequential gearbox. The TZ3 Stradale is based on the Viper ACR mechanical chassis with a carbon fiber body.
Following Zagato's gentlemen-driver heritage, TZ3 Corsa has been commissioned by the Alfa Romeo Zagato collector Martin Kapp. The first TZ3 Stradale has been delivered to the US Alfa Romeo and Zagato collector (and Saratoga Automobile Museum's board member) Eric King. The TZ3 Stradale n°2 and n°3 will be delivered in Japan and Europe.