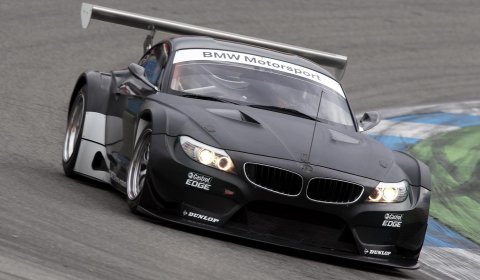 The modified BMW Z4 GT3 has finished testing and is ready for future owners. The BMW Z4 GT3, which was launched in March 2010, achieved its greatest success to date in January 2011. Claudia Hürtgen (DE), BMW works driver Augusto Farfus (BR), Tommy Milner (US) and Edward Sandström (SE) won the Dubai 24 Hours for Team Schubert.
A difference between the production and racing car can be found under the bonnet: while the production version of the BMW Z4 is driven by a six-cylinder engine, the GT3 car is powered by a 4.4 liter eight-cylinder engine.
BMW Motorsport engineers have also fine-tuned the aerodynamics of the BMW Z4 GT3 for the new season. The modern ECU408 takes over the engine management, while the Power400 electronic control unit is responsible for controlling all the actuators. The power is transmitted through a six-speed, sequential gearbox. Gearshifts are now initiated using two paddles.
The steel body of the car comes from BMW Plant Regensburg. A safety cell made of extremely rigid, precision steel tubing is then welded into the body. The engine block of the V8 engine is produced in the BMW foundry in Landshut. BMW Plant Dingolfing contributes the rear axle differential, among other things. Front and rear wings, bonnet, roof, fenders and many other components are made of carbon fiber reinforced plastics (CFRP).
The car is available now at a price of € 315,000 (plus VAT) from BMW Motorsport Distribution.