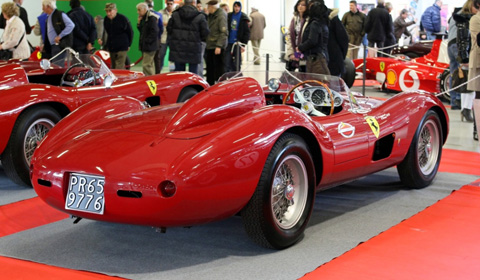 The Old Time Show in Forlì, Italy was organized for the eight consecutive year and took place on the 12th and 13th of March. Besides the traditional market to buy and sell oldtimers, there was an exhibition about Ferrari this year. This exhibition featured some very rare, remarkable and historical interesting cars.
One of those rare car at the show was the historical Auto Avio Construction Type 815, the first car built by Enzo Ferrari and the only one left (of the two ever built). Another interesting car is the unique Ferrari sedan prototype named the Pinin. This car, designed by Pininfarina and powered by a 12-cylinder boxer which provided 360hp, was unveiled at the 1980 Turin Motor Show.
Other great cars and rarities at the Old Time show were the Ferrari 250 Monza, the 166 F2 which was driven by Fangio and the 500 TR which participated in the Mille Miglia. Also on display were the Ferrari 250 GTO, 250 GT Zagato, 288 GTO, F40, F50, the Enzo and many more.
Our friend Smartdriver visited the show and made some great shots. Enjoy the galleries and visit Italiansupercars.net for many more high-res pictures!