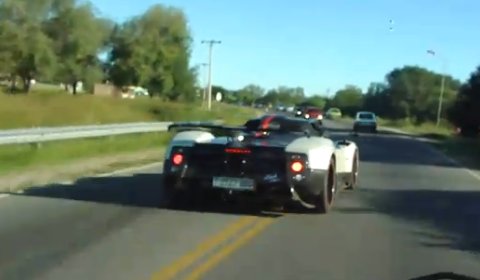 One of the five limited Pagani Zonda Cinques was spotted this weekend in the Cordoba Hills in Argentina. The owner of this hypercar is pharmaceutical tycoon Alejandro Roemmers, who also owns a Porsche Carrera GT and a Bugatti Veyron – the only one in Argentina.
The Pagani Zonda Cinque squeezes 678hp out of the V12 engine sourced from AMG. Enough power to generate enough G-force to rip your hairs out, whether that is in a corner or a straight line; acceleration 0-100km/h in 3.4 seconds and 0-200km/h before you can count from 1 to 10.
The Cinque is worth 1.3 million euros. The report by Autoblog.com.ar states that he was stopped by the police in Cordoba. The video explains why.