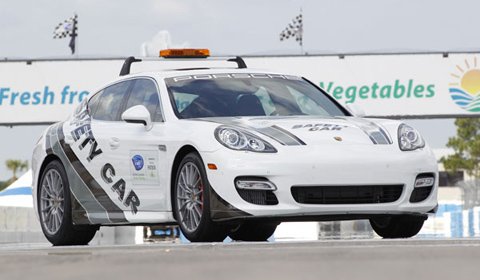 The Porsche Panamera Turbo is the official safety car for the American Le Mans Series. The Panamera safety car debuted at the Twelve Hours of Sebring previous weekend.
The Porsche Panamera Turbo is powered by a 4.8liter, twin turbocharged V8 with 500 horsepower. This enables the new safety car to accelerate from 0 to 100km/h in just four seconds, the top speed is 303km/h. The car is equipped with the dual clutch transmission (PDK), with both manual gearshift and an automatic mode which enables smooth gear changes with no interruption in the flow of power. This results in significantly faster acceleration and lower fuel consumption, without having to sacrifice the ease of automatic transmission. Together with the all wheel drive the Panamera Turbo is perfectly suited to handle any track situation, including inclement weather.
The Panamera presence is an expansion of Porsche's relationship with the American Le Mans Series. The Porsche Cayenne will continue to serve as the Series' official rapid response vehicle.