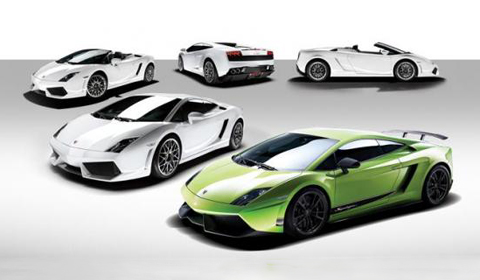 Lamborghini America has announced a new lease program for the current line-up of Lamborghini Gallardos. The limited lease program is made possible by Automobili Lamborghini America in partnership with Premier Financial Services. The Italian carmaker noticed an increasing desire from their customers to develop a leasing program as an alternative to traditional ownership.
Enrollment in the lease program is open to March 31, 2011, through authorized U.S. Lamborghini dealers. The 27 month lease has a standard mileage allowance of 3,500 miles per year. This program will allow customers to experience the supercars from Sant'Agata Bolognese, Italy.
Eligible vehicles are the 2010 and 2011 Gallardo LP560-4 Spyders, 2011 Gallardo LP560-4 Coupe, 2011 LP570-4 Superleggera and the 2011 Gallardo LP550-2. This rear wheel drive Gallardo is comparable to the Gallardo LP550-2 Balboni, which featured in our road test.
For more information, please contact Premier Financial Services or one of the official U.S. Lamborghini dealers.
[Via Luxery4Play and DuPont Registry]