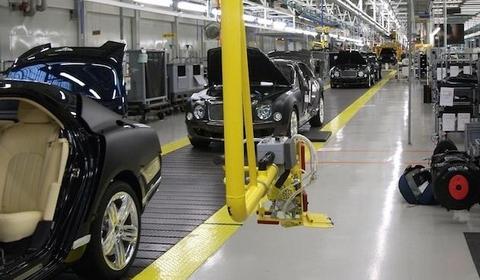 Because the 2011 Geneva Motor Show was taking much of our time, we almost forget to mention that National Geographic Channel airs a new episode of their Ultimate Factories Series this evening. Car in the spotlights is the brand new Bentley Mulsanne.
It's been 50 years since they created a new Bentley fit for royalty and rock stars, and it's a challenge for Bentley's ultimate factories to construct the Mulsanne, a new design of the luxury car. It takes more than 550 hours and nine weeks for artisans and technicians to create this masterpiece. Precision robots ensure that this two-and-a-half-ton luxury car's body is flawlessly molded, but the finest leather is hand-sewn for Bentley's lavish upholstery. And the Bentley Woodshop tackles a centuries-old craft, wood veneering. It takes an hour to craft one wood panel, and the Mulsanne has more than 300!
Below we have added a first teaser video of Bentley's wood shop. To see the complete episode definitely tune in on National Geographic Channel tonight.