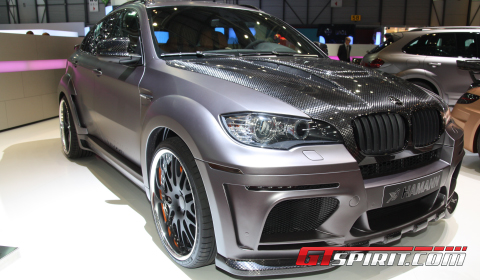 The Hamann Tycoon Evo M is known to us and known to you. The BMW X6 M package from the German tuner was reviewed last year, still the Germans took the car along to the Geneva Motor Show.
The main subject concerning this Tycoon Evo M are certain carbon fiber parts fitted to the car. As you can see below in the gallery they added a carbon fiber hood, roof rack, lower front spoiler, rear window spoiler, rear wing, rear diffuser and rear tail lights covers. All these parts are new to the program in a special color and were revealed at the Geneva Auto Salon.
Just a recap, the bad ass looking X6 M is lifted to 670hp that results in sports car rivalling performance figures: 0-100km/h in 4.2 seconds and a top speed of 300km/h.