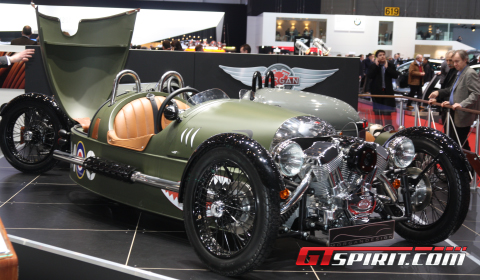 Morgan has taken its 3 Wheeler to Geneva. The unique vehicle fits the iconic design of the Morgan perfectly, even though it has been updated to the 21st Century. The power comes from a V-Twin fuel injected engine mated to a Mazda five-speed gearbox.
With an economical 115hp the motor provides maximum power at minimum revs. A sturdy V-belt provides traction to the reinforced rear tyre.
Pricing starts at £ 25,000 before tax. Bespoke leather and paint are available at extra cost. A polished engine, stainless steel tailpipes, cowl, polished cowl, headlamps and roll hoops are also extras.
Truly a special creation, if you ask us!