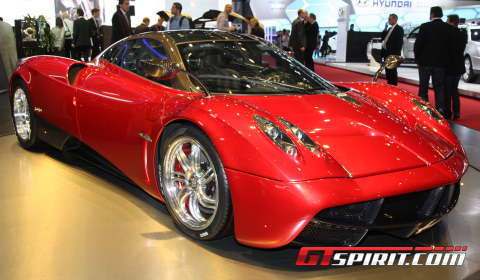 We have left the best for last today! Pagani's offering to the 2011 Geneva Auto Salon is probably one of the most eagerly awaited unveilings at the event, showcased in the communcation color and a new red/black combination.
The 2012 Pagani Huayra has a lot to live up to, surpassing the Zonda; a car that will probably have its place in the history books as one of the greatest cars ever made. It is the first time Pagani have shown their new € 825,000 hypercar to the public and therefore, also our first time seeing the car in the flesh.
The Huayra offers a Mercedes-AMG powered, twin-turbo M158 V12. Displacement is 5980cc and power peaks at 700 horsepower and 1000Nm of torque. Whilst this seems relatively low compared to the cars Koenigsegg and Bugatti are offering at this years show, the potential for the car is revealed further by looking at the measures Pagani mechanics have taken to reduce weight. Examples of this can be found in the exhaust, which only weighs 10kg and the sequential seven speed gearbox which weighs just 96kg. Combined weight comes in at just 1,350kg.
We got an indepth look into the hypercar. The Huayra-shaped key is quite heavy and holds an USB stick to store music, the side compartments contain numerous bags to savely carry your luggage and there is even a bag for the woman driving or driving along in the Italian supercar.
The car will be released in the US markets when it eventually completes development. For now, take a look at our live pictures from the show floor.
For full details on the Huayra, click here.