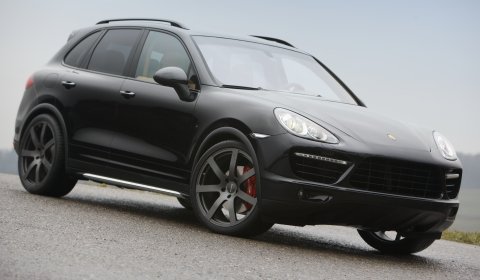 Yesterday afternoon we revealed initial information regarding the Sportec package for the second generation Porsche Cayenne. The program is named SP580 and today we received more information and official pictures.
The Swiss tuner has modified the SUV. The Sportec Cayenne drives on 22 inch forged Sportec Mono/7 wheels. An electronic suspension control module lowers the vehicle up to 30 millimeters. The system offers the ideal height adjustment depending on the speed of the vehicle.
At the rear, the four 90mm tailpipes are part of the Sportec stainless steel exhaust system which improves the exhaust tune. The installation of a Motronic system offers 80 more horsepower and nearly 100Nm of extra torque.
Stay tuned for more information and live pictures of the Sportec Porsche Cayenne SP580.