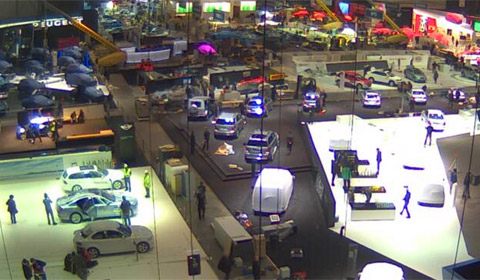 Palexpo Geneva hosts two webcams that give a good overview of hall 4, 5 and 6 of the Geneva Motor Show 2011. For those unfamiliar with Palexpo Geneva, the show grounds are one large open space divided over two levels and into multiple sub-areas defined as halls. Hall 1 and 2 are located on the upper level, hall 4, 5 and 6 located on the lower level. Download the Geneva Motor Show 2011 floor plans here.
On the first webcam you can see hall 4 and 5 with Toyota, Renault and Daihatsu in the foreground. If you look closely on the left you can see the three new Novitec Rosso's are already there.
The second webcam shows hall 6 with BMW, Mercedes and Peugeot among others.
Visit our Geneva Auto Salon 2011 channel or follow us on Facebook or Twitter for the latest news!