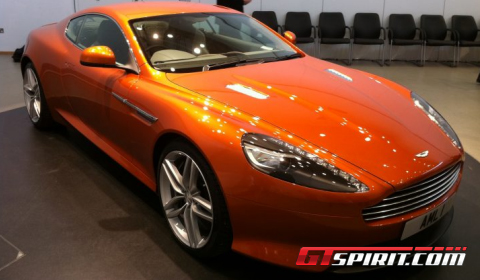 Aston Martin is bringing back the Virage, a brand new model based on the DB9 and positioned between the DB9 and DBS within the British car maker range. The car maker from Gaydon revealed the Virage today ahead of its official debut during the Geneva Motor Show starting in less than a week.
The Virage name tag is known to all car purists because of its heritage. The first Virage was introduced at the Birmingham Motor Show in 1988 and the replacement for several V8 models. The Virage was a large, heavy car, but the 32-valve 5.3 liter V8 engine's 475Nm torque elevated its performance to near sports car levels. It was joined by the high-performance Vantage in 1993, and the name of the standard car was changed to V8 in 1996. In the end numerous versions were produced until the production stopped. By the end of the 2000 model year, 1,050 of all Virage related models had been produced.
Now the vehicle is back resembling the current Aston Martin DB9 setup, but with a different rear bumper, rear spoiler, side skirts, front bumper and alloys. The Virage is positioned in the middle of the brand's line-up and has a carbon brake kit and an engine performance of 490bhp. It is unknown if it will be available as a Volante, like its predecessor from the 90's.
Stay tuned for more information on the engine setup, pricing and availability.
[Via Shmee150]