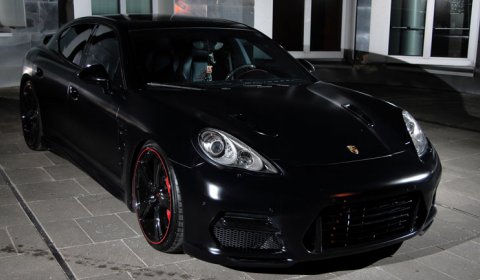 Anderson Germany is expanding its line-up of programs with the Porsche Panamera. They have taken on the Porsche Panamera 4S and added a body kit that includes a front apron, a set of side skirts, a rear apron and a spoiler. The air inlets from the left and right somehow emphasize the sportiness of the vehicle.
The headlight trims were mutated to a quasi-evil eye and LED daytime running lights are tinted. The complete satin black painting is combined with mirrors, grille, door handles, logos, tailgate and window frames painted in glossy black. Together with the window tinting and the tinted front and rear lights you could call it the all-black edition.
The German tuner achieved a performance increase from 400 to 485hp using an exhaust system with Rennkats and software optimization. The exhaust system has a three-way remote-controlled valve and delivers an additional 17hp.
The rims in dimensions of 10×22 inches are accompanied by red-painted brake calipers and tires in dimensions of 265/30-22 inches at the front axle and 295/25-22 at the rear. The height of the tuned luxury saloon can be adjusted in three levels by pressing a button, but just 40 millimeters.
The interior features dimmable front and rear red LED footwell lighting and is finished in carbon leather and black Alcantara with red trim and diamond seams. Diamond stitching is used on the Alcantara roof lining again. An ergonomically sculptured, exclusive sports steering wheel is added as well. Carbon trims, steering wheel, front and rear center console and door sills complete the picture, where handles and roof panels are also painted in gloss black – with red logo and black border.