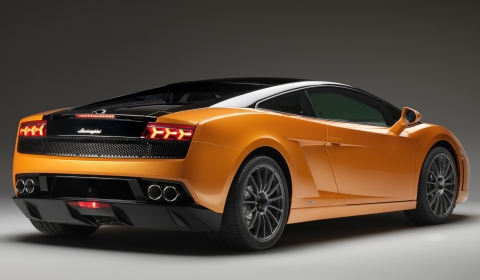 Lamborghini will present a new limited version of the Lamborghini Gallardo at the 2011 Qatar Motor Show end of this month. The Gallardo LP 560-4 Bicolore is a special edition of the Gallardo LP560-4 and will be available in the European and Asian-Pacific markets. In North America the Bicolore will only be available as a Gallardo LP550-2 Bicolore.
As its name implies, this special series features an exclusive two-tone finish with matching interior, and offers a full range of standard equipment. A refined contrast between the black roof and the color of the rest of the body is available in a choice of five shades.
The colored exterior finish is matched with the black on the upper area of the body. From the window-line upwards (including pillars, roof, engine hood and rear spoiler), the vehicle is decorated in Noctis Black. The lower area of the body is available in a choice of five colors: Giallo Midas, Arancio Borealis, Grigio Telesto, Bianco Monocerus and Blu Caelum.
The exterior appearance is enhanced by Skorpius aluminum-alloy rims with 15 thin spokes that are forged to minimize unsprung weight and are finished in titanium gray enamel. And, the air intakes and front spoiler have a high-gloss black finish, as does the upper section of the rear diffuser.
The instrument panel, seats, door panels and other elements in the passenger compartment are upholstered in the "Nero Persus" leather, with a refined contrast provided by precise stitching that is colored to match the exterior paintwork: yellow, orange, blue and gray (also used on the Bianco Monocerus version).
The bezel of the e-gear transmission on the center console is in Nero Noctis, just like the upper area of the vehicle.
The complete range of standard equipment includes the fast e-gear automated transmission controlled by paddles on the steering column. A lifting system enables the front axle to be raised for safer travel onto ramps and over humps in the road, and the engine hood in tempered glass provides a nice view of the heart of the vehicle: a 5.2 liter, 90° V-10 engine with stratified direct injection.
The Bicolore Special Edition is particularly intended for the enthusiast who desires a supercar with an exclusive appearance and remarkable design. The Gallardo Bicolore completes Lamborghini's ten-cylinder model range.