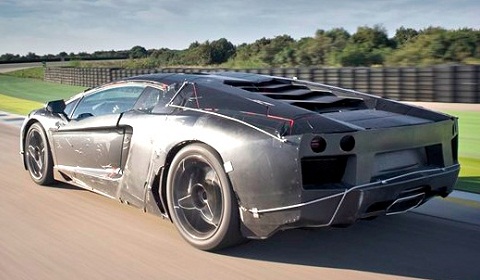 Yesterday evening, at a private event held prior to the start of the Detroit Motor Show, new details about Lamborghini's Murciélago successor were revealed. Lamborghini CEO Stephan Winkelmann and head of Research and Development Maurizio Reggiani let loose a few details that give us a better idea of what Lamborghini plan to unveil at Geneva later on in the year.
Basic elements of the flagship supercar will be retained including the scissor doors, AWD and the current models massive air intakes. However, there will be a new carbon fiber chassis and a pushrod suspension setup, similar to those found on race cars. The whole chassis will weigh in at 229 kilograms.
We've already been told about the 690bhp 6.5 liter V12, featuring 18 percent more power and 20 percent better emissions. The new ISR seven-speed transmission will feature five gear settings, (auto strada, auto sport, strada, sport and corsa) with Corsa shifts happening in 50 milliseconds, 150ms in Sport, and 300ms in Auto Strada.
Reggiani explained that the use of a single clutch rather than a double clutch aids in saving weight (around 20kg) as well as creating emotion and improving fuel economy. Brakes will be 400mm carbon discs up front, 380mm at the back, and it will have an electronic parking brake.
Inside, the design will be more ergonomic, allowing for a larger driver. An improved driving position is also expected with the driver facing forwards rather than slightly to the right. Lamborghini will also use a a new TFC instrument cluster, displaying all information on one screen.
[Via Autoblog]