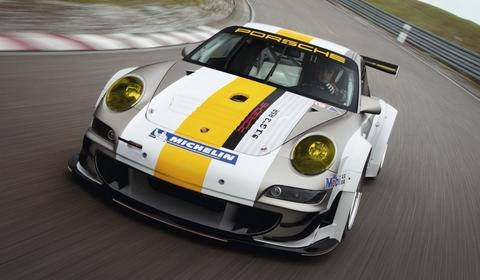 The Porsche 911 GT3 RSR is ready for a new motorsport season. Thanks to extensive modifications the 2011 version of Porsche's GT race car is ready to show what it is capable of. The new GT3 RSR is equipped with newly designed aerodynamics at the front and rear, changes to the suspension kinematics and to the engine.
The 4.0 liter, six-cylinder boxer engine now delivers 455bhp at 7,800rpm, five bhp more than its predecessor. The power increase results from an engine management system which adapts even better to different fuel grades, as well as a redesigned exhaust system and a modified air intake housing.
Visible modifications at the front are a new front lip providing higher downforce at the front axle. The front wheels are now wider with the rims growing from 11 to 12 inches. The rear wing and the shape of the wing also create optimisation and were adapted to the new rear fairing. The rear lid was also redesigned for optimised air ducting. Like the 911 GT3 Cup and the GT3 R, the RSR has now been equipped with the LED rear lights taken from the latest 911 road-legal sports cars.