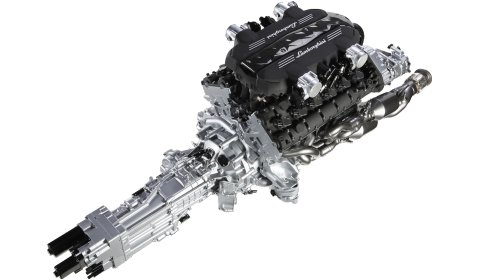 The release of the new 'Murcielago' officially named Aventador is still a few months away. Ahead of its official debut at Geneva 2011 Lamborghini revealed today their new V12 powerplant and ISR transmission. The twelve-cylinder with 6.5 liter displacement, output of 700hp (525kW) and maximum torque of 690 Newton meters available at 5,500rpm is accompanied by the ISR automated manual gearbox.
The gearbox combines minimal shift times – almost 50 percent shorter than with a dual-clutch transmission – and everyday usability with low weight and dimensions. The new powertrain will enter production early 2011. Stephan Winkelmann, President and CEO of Automobili Lamborghini stated:
This new power unit is not only the crowning glory of our product range, it is also part of our enormous investment in the future of the Lamborghini brand. With this new V12, we are heralding a technological leap that encompasses all areas of the company and our future model lineup. With a unique package of innovations, Lamborghini will redefine the future of the super sports car. This 700hp engine, together with an all-new concept gearbox, will be the strong heart of the Murciélago successor next year.
The resulting package is powerful and high-revving, yet compact. At 235 kilograms, it is also lightweight – with every single kilo of engine weight representing around three hp of maximum output. Not only was it developed entirely in-house by Lamborghini, it is also manufactured from start to finish at company headquarters in Sant'Agata Bolognese.
Lamborghini ISR (Independent Shifting Rod) is a brand new technique for the Italian supercar builder. Instead of taking place in series, as with a conventional gearbox, shifting can occur virtually in parallel. While one shifting rod is moving out of one gear, the second shifting rod can already engage the next. Moreover, the transmission weighs only 79 kilograms – a distinct benefit, even against comparable DSG transmissions, which are considerably heavier.