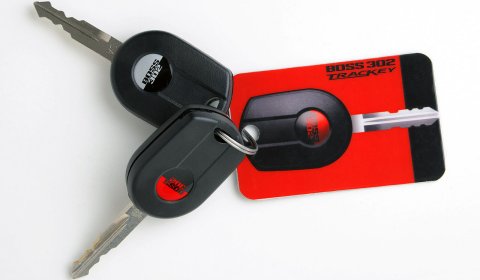 Listen up! The brand new 2012 Mustang Boss 302 holds two keys: One has a black Boss logo, the other red: Either will start the Boss 302. Slide the all-black key into the lock cylinder, give it a twist and you're treated to 444hp. Or choose red – the TracKey – and you have a competition-ready track car.
A joint project between Mustang engineers and Ford Racing, TracKey adds a second set of powertrain control module (PCM) software to a customer's Mustang Boss 302, activated by a programmed vehicle key. When invoked by TracKey, the new TracMode software alters more than 200 engine management parameters, increasing low-end torque and turning the stock Boss into a competition-ready track car. Remove TracKey and start Boss with the standard key, and all factory engine settings are restored for a comfortable drive home from the course.
As part of the TracKey software package, Ford engineers also devised a two-stage launch control feature similar to that used on the Cobra Jet race car. Using a combination of steering wheel buttons, drivers can set the tach needle to a desired launch rpm. Floor the throttle and the engine will rev to the preset rpm until the clutch is released, helping aid acceleration and vehicle control from a standing start.
TracKey powertrain software installation and key programming will be available to 2012 Mustang Boss 302 owners through Ford Racing authorized dealers. Pricing will be announced at a later date.