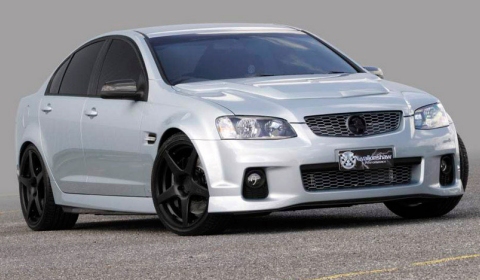 Australian tuner Walkinshaw Performance has unveiled a project with a supercharged engine as part of the opening of the Australian International Motor Show in Sydney. The showcar is based on a Holden Commodore Series II SS, fitted with the all-new WP 230 supercharger sourced from supplier, Edelbrock.
When combined with the existing Holden V8 engine this car develops 625hp (460kW) at 6000rpm of power and 780Nm at 3450rpm of torque. The WP Series II Supercar features an Edelbrock E Force supercharger, an all new front and rear brake package; six piston 378mm rotors at front and six piston 365mm rotors at the rear, upgraded and recalibrated suspension package developed with Bilstein and a specially commissioned audio upgrade package from Rockford Fosgate. The vehicle is finished in Panorama Silver.
Packages, including the cost of a Holden Series II Commodore SS will begin at $ 99,990 Australian Dollars.