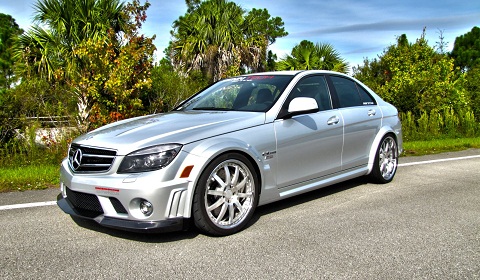 RENNtech have announced the availability of its C74 Widebody Aerodynamic Package. The kit was first publicly shown two weekends ago at the Orlando Festivals of Speed. Now RENNtech are offering the C63 AMG conversion package for $ 15,450 (€ 11,050).
Each component is crafted in prepreg, autoclaved carbon fiber in either matte or gloss finish to suit individual desires. Included in the package is a rear deck lid spoiler, rear diffuser package, new exhaust tips, front and rear fender flares and a wide body conversion kit. Overall, the rear axle width rises to 74 inch.
If the full DTM look isn't quite to your taste and instead you just want to purchase individual components, RENNtech will cater for you too. Prices range from $ 3,950 (€ 2,800) for the rear diffuser and integrated exhaust tips to $ 1,650 (€ 1,180) for a simple rear spoiler.