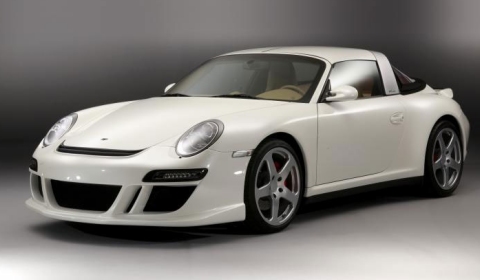 Alois Ruf and his team have revealed the brand new RUF Roadster, inspired from a 1967 Porsche Targa. The targa was equipped with an integrated roll cage which combines the safety of a Coupé with the fresh air feeling of a convertible. The centre piece of the roof could be removed and folded, while the flexible plastic rear window can be folded.
The new RUF Roadster has an aerodynamically optimized, lower rear window and two extremely light, removable roof pieces made of carbon fiber. The soft rear window is made of a three layer polyglass, an electric engine keeps the rear window tight. Different ways to enjoy the driving pleasure are available such as completely enclosed, completely open, or with a closed roof and open rear window, or open roof and closed rear window.
The Roadster is available with a 400hp (294kW) six cylinder boxer engine and/or as a turbo with 560hp (412kW). The 400hp version sprints from 0-100 in 4,6 seconds and reaches a topspeed of 295km/h. Standard is a six speed gearbox. Dual clutch gearbox and four-wheel drive are available as an option. This RUF car is equipped with 19 inch forged aluminium wheels.
The base price for the Roadster with combustion engine starts at € 195,000 without tax. The Roadster chassis will be available from 2011 onward with a planned limited production of electric eRUF automobiles.