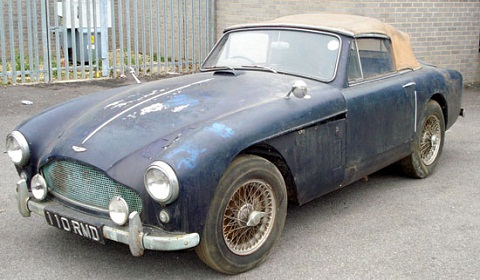 A classic Aston Martin DB 3/4 Mk III drophead was recently sold at Sandown Park in Esher, Surrey by Barons Auctioneers for an incredible £ 207,866. The car, which sat on a trailer under a tarpaulin for 30 years, was first registered in 1958 to a certain David Brown, owner of Aston Martin at that time.
It was only expected to fetch between £ 80,000 and £ 100,000 in its rusty and mould riden state! It will need a full restoration on top of the price paid for the car!
Laurence Sayers-Gillan, managing director of Barons auctioneers said:
Considering how it was stored the car is amazingly sound and comes complete with the original logbook, workshop manuals and service history. Cars like this come onto the market very rarely and the association with David Brown, who is a historic figure for Aston Martin, attracted a lot of interest.
[Via SmallWorldNewsService]