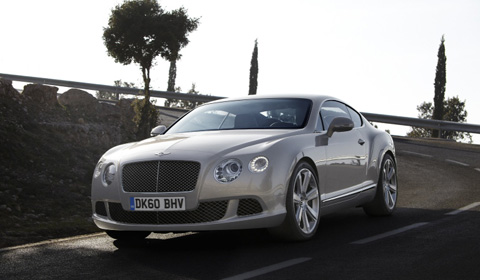 The new 2011 Bentley Continental GT is here! Seven years after the introduction of the Bentley Continental GT in 2003, Bentley will show the successor of the GT at the Paris Motor Show later this month. Both the interior and exterior have had an update and the new Bentley Continental GT will be launched with a more powerful W12 engine with an output of 575hp and 700Nm of torque. This reduces the 0-100km/h (62mph) sprint to 4.6 seconds and gives plenty of juice for a top speed just shy of 200mph at 318km/h (198mph).
Bentley engineers installed aluminum suspension components, a new steering system, and a 40:60 spilt all-wheel drive system. They also increased front and rear track improving grip and stability. The ZF 6HP28 transmission with Quickshift system cuts shift times by 50 precent and enables double downshifts. The customer can choose for 20 inch and optional 21 inch wheels.
One of the most important interior features of the new 2011 Bentley Continental GT is the infotainment system with 30GB hard drive, satellite navigation and Google Maps compatibility. The outside has new jewelled headlights with LED daytime-running lights and a more upright grill that bears resemblance with the Bentley Mulsanne. Dr Franz-Josef Paefgen, Chairman and Chief Executive stated:
The new Continental GT is an automotive work of art, with superb craftsmanship and elegant, contemporary design. It drives like a supercar, but without the usual sacrifices in ride or practicality. It is a car that you can enjoy every moment of every day.
In late 2011 an all-new, high-output 4.0 liter eight-cylinder engine will also be available to order. Official introduction of the new 2011 Bentley Continental GT is scheduled for the Paris Motor Show 2010.