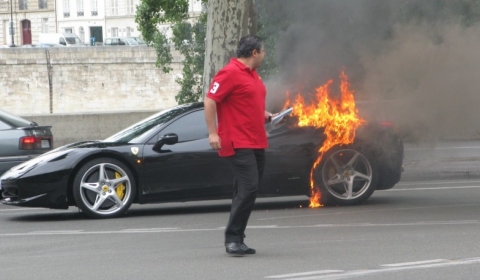 After a recent spate of Ferrari 458 Italia fires, Ferrari has officially issued a recall of the 458 Italia. In total 1250 458 Italia's build before the end of July 2010 have to go back to the dealer worldwide.
According to the automaker, an adhesive used to attach a heat shield under the rear fender can ignite under high temperatures, leading to a larger fire in the engine bay. We have seen at least four cases on the internet of flaming 458s like this one, and while we can not say for certain, it would seem this adhesive is the likely cause.
Ferrari has designed a new heat shield that attaches with rivets, negating the need for the adhesive. Naturally, 458 owners are urged to call a dealer to schedule an appointment for the free fix.
[Via Autoblog]