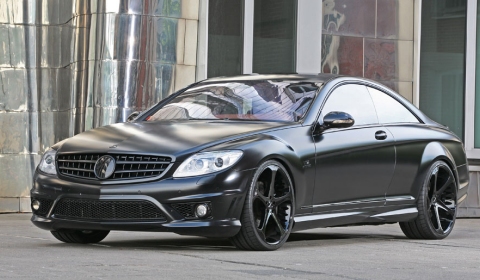 Anderson Germany has released their take on the Mercedes-Benz CL 65 AMG named Black Edition. The engine performance has been improved using software optimisation, sports air filters, a sports exhaust system (plasma coated) including racing catalysors and larger pulleys and now boasts 670hp.
The new lacquered bodywork in satin matt de luxe/black gives the car an even more elevated status. The German tuner also has a carbon exterior packet in jet black made up of an external mirror, window frames, a front grill, door handles, hatchback panel, ventilator frames on the engine bonnet as well as diverse engine room coverings. On the outside they installed a rear spoiler lip to allow for more output – electronic lowering supports the whole thing.
Anderson also offers light metal rims. For the wheels, the they selected 22 inch rims in black/gloss with carbon edging in jet black. These measure 9×22 inches and 10.5×22 inches and are equipped with high performance tyres by Michelin in size 275/25-22 and 295/25-22. Directly behind them are the large break shoes, also lacquered in jet black.
The interior has leather finishing decorated with double cord edging combined with a diamond pattern. Numerous extras in the interior like the mirror, central console, steering wheel, entrance ledges, door framing and light framing have a carbon finish. The interior also includes a complete HiFi system and an interior finish in carbon leather/dark brown leather/dark brown Alcantara. Despite all this, customer-specific tailoring is still possible upon request.