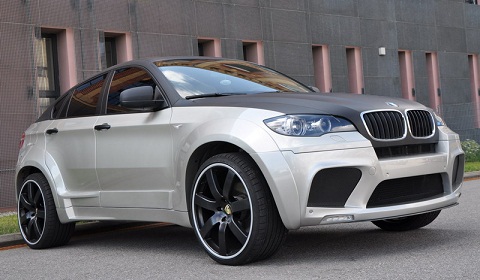 ENCO Exclusive have just unveiled their latest project, based on the BMW X6. The car features a new bodykit as well as a fresh 'two-tone' look! ENCO do not appear to have touched the mechanics of the car meaning that this project only goes skin deep.
The new bodykit consists of a front & rear bumper spoiler, new flared fenders, sills and a set of quad tailpipes. The result is a larger-than-life X6, borrowing a lot of inspiration from the top of the range X6M. The silver and matt black wrap finish the exclusive look, making sure the car will stand out from every other X6 on the road!
ENCO-JURA 23 inch aluminium wheels have been added to this car. Although there is very little detail on the kit, we are sure that ENCO Exclusive would cater to the tastes of any customer, if you want to find out more about what they have to offer, contact us or head over to their website!