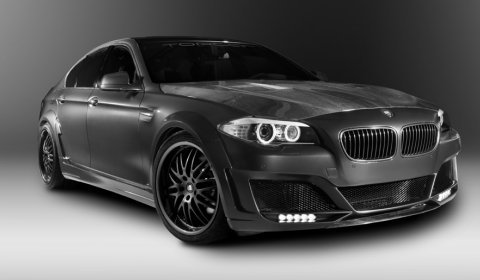 TopCar and Lumma Design have finally introduced their take on the new BMW 5 Series. After initial details and designs shown to us at the end of last year, Autogespot has unveiled the official information and pictures.
The kit is named CLR 500 RS2 and includes a new front bumper, carbon fiber hood, wider rear fenders, side skirts, rear bumper with integrated rear diffuser and dark tail lights. The Russian/German combination also added a carbon fiber rear trunk spoiler and new rims to the 5 Series setup.
The car shown here produces only 380hp and changes owner for about € 136,933 which means that TopCar and Lumma have used the 535i as a basis and increased the output of the 3.0 liter Twin Turbo engine. The 550i has a 4.4 liter Twin Turbo with 407bhp.
The interior includes a large amount of carbon fiber refinements.