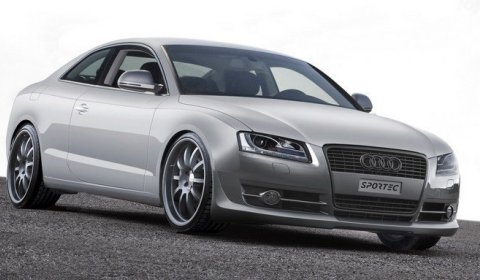 Sportec has revealed its performance upgrade for the Audi S5 quattro coupé and cabriolet using the 3.0 liter supercharged V6 TFSI powerplant.
Labelled 'Stage One' the performance enhancement package consists of a free flowing air filter element and an ECU remap. The peak power increased from 328bhp at 6000rpm to 425bhp at 6640rpm, a gain of 97bhp.
Similarly, upgrade delivers a increase in torque output on the Audi S5, producing a maximum of 520Nm (379lb-ft) at 4250rpm, compared to peak figure of 440Nm (325lb-ft) from the factory. 80% of the maximum torque output is available from 2750 to 6250rpm.
The upgrade reduces the 0-100km/h (62mph) by 0.5 seconds to 4.6 seconds, while top speed is limited at 250km/h (155mph).
The Sportec Stage One upgrade is available priced at £ 1,950 fitted including VAT.