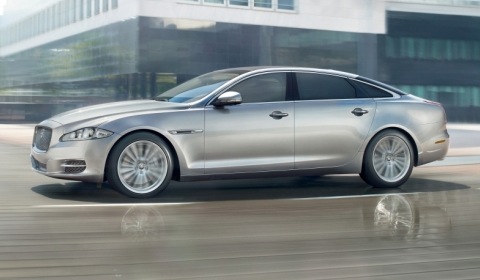 The British car maker Jaguar is launching an armored version of its XJ luxury sports saloon at the 2010 Moscow International Motor Show. The new XJ Sentinel offers up to B7 levels of ballistic protection, while being indistinguishable from the standard XJ model. The armoured car is supplied with a full three-year 50,000 mile factory warranty.
Based on the long wheelbase XJ, the armoured vehicle maintains the standard setup but has production in the levels BS EN 1522 level FB7 and BS EN 1063 BR7-, blast protection against 15kg TNT equivalent detonated within close proximity of the vehicle, and under floor grenade protection.
The Sentinel is powered by the refined 5.0 liter direct-injection V8 petrol engine, which is paired with a six-speed automatic transmission. Acceleration from 0-100km/h (62mph) is achieved in 9.7 seconds and the top speed is 195km/h.
Jaguar upgraded the suspension with active dampers front and rear and installed the braking system from the Supercharged non-armoured version of the XJ. Strengthened 19 inch Aleutian Alloy Wheels with 245/45 19 inch Dunlop Run on Flat tyres support the total gross weight of 3,800kgs.